Advertise with SDBJ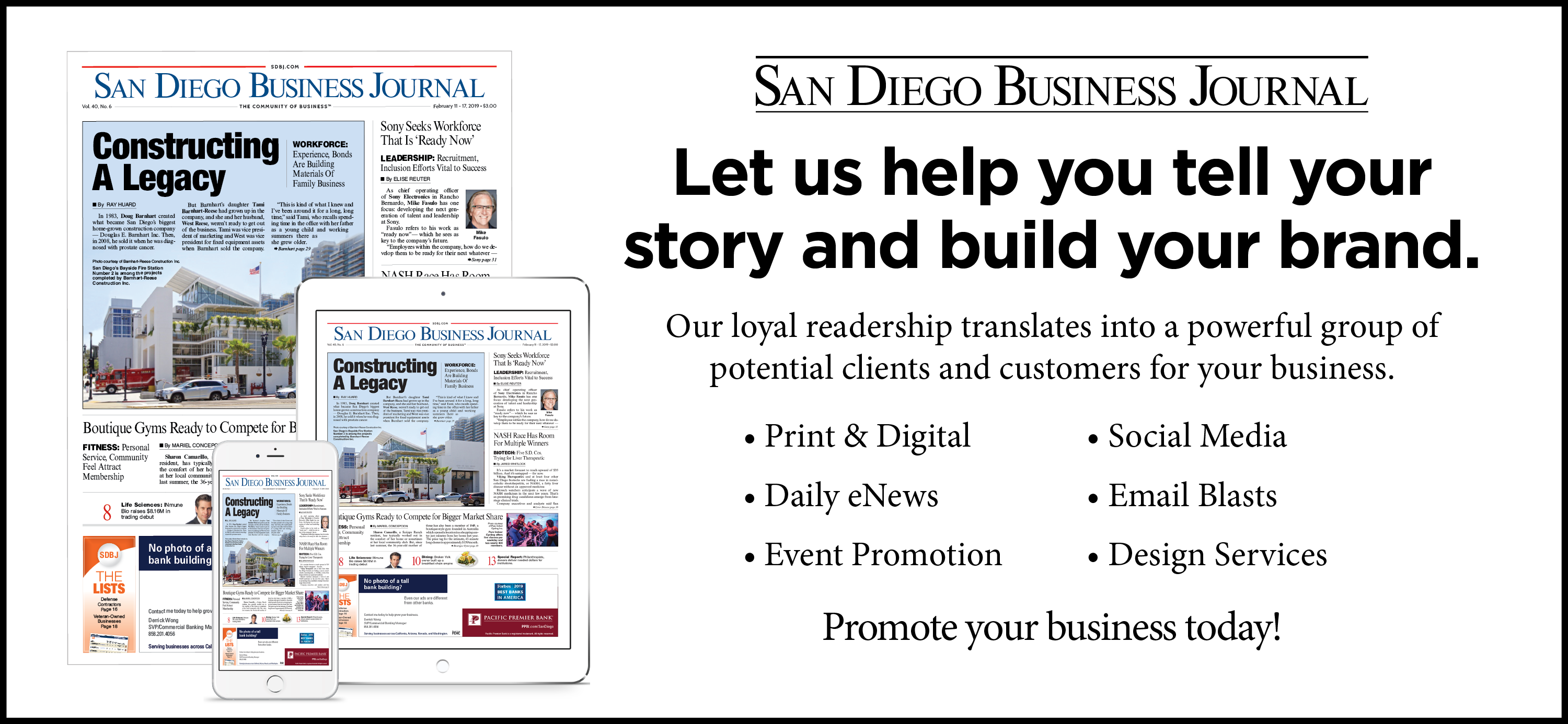 Display Advertising
From weekly schedules to targeting specific issues or seasons, the San Diego Business Journal offers a variety of sizes and rates that are extremely cost-effective. We can also deliver your message as an insert into our weekly magazine. For display advertising information, please contact SDBJ Ads at 619.861.0504 or email sdbjads@sdbj.com

---
Event Sponsorship
SDBJ events provide local and regional firms with the opportunity to reach a target audience face-to-face. Awards and networking programs also provide tremendous visibility for event sponsors. We offer unique opportunities for companies to promote their goods and services directly to event attendees. To find out more information on these upcoming events, please call San Diego Business Journal at 760.271.1660 or email us at Event Sponsorship.


---
People On The Move
PEOPLE ON THE MOVE is a weekly feature that is seen by 45,000 of the most influential people in the San Diego business community. This is an opportunity to announce new hires, promotions, award recipients and board appointments. Click Here


---
Companies On The Move
COMPANIES ON THE MOVE features companies making important changes and public announcements within the San Diego business community. This is an opportunity to showcase corporate changes, mergers, pivotal business decisions, award recipients and board appointments. Click Here


---
Marketplace Advertising & Legal Notices
For clients with particular marketing needs, our Business Marketplace section is the perfect place to advertise office space, residential real estate, businesses for sale, internet/technology services, employment/recruitment of top or middle managers, business products, request for proposals/legal services or DBAs.
For marketplace advertising and legal notices, please contact (858) 277-6359, or e-mail SDBJClassifieds@sdbj.com or SDBJLegals@sdbj.com

---
Online Advertising and Daily eNews
With more than 40,000 eNews subscribers, our daily alerts, 5 days a week gives the most up-to-date local business news with customized reports. It serves as a trusted source of local business information that influences their decision making. For advertisers, the San Diego Business Journal Daily eNews, Website and Digital Edition offers an effective means to reach this audience on a daily basis. For options advertising with us online, please contact sdbjcustomerservice@sdbj.com


---
Request for Display, Business Marketplace or
Online Advertising Media Kit
To receive the latest San Diego Business Journal and our advertising rates and media kit or for information about event sponsorships, please send an email to Sales Administrator.

Want to talk to us? Call (858) 277-6359
or visit us at 4909 Murphy Canyon Rd., Suite 200,
San Diego, CA 92123 USA.