Aguirre Files Suit
Thursday, December 1, 2005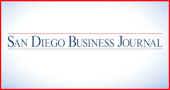 San Diego City Attorney Michael Aguirre on Dec. 1 filed a $100 million malpractice lawsuit against lawyers and accountants who were hired by the city to provide advice and work involving bond offerings made between 1996 and 2003.
The city's lawsuit seeks compensatory damages, punitive damages, and the return of hundreds of thousands of dollars paid to them over the years, said Aguirre.
"Today, the citizens of San Diego begin to fight back and hold professionals responsible for their significant roles in creating and covering up financial irregularities," he said. "This is a case of malpractice and cover-up by highly paid professionals."
The defendants include the city's bond counsel, Orrick, Herrington & Sutcliffe; the independent auditing firm for all of the city's bond offerings, Calderon Jaham & Osborn; Webster & Anderson, who served as co-bond counsel with Orrick; and the accounting firm of Caporicci & Larson, which acquired the Calderon firm in 2003, according to Aguirre's office.
The complaint was filed by the city's outside legal counsel Dan L. Stanford from the law firm of Stanford & Associates, and San Diego attorney Bryan C. Vess.
"This lawsuit is the epitome of gall," read a statement from Orrick, Herrington & Sutcliffe in response. "According to the San Diego City Council's own independent, investigative report by Vison & Elkins, Orrick used 'dogged effort' to pressure the city to come clean with the public. Now, the City Council that failed to oversee its own finances, is scapegoating Orrick and everybody else. What's wrong with this picture?"
, Pat Broderick