San Diego Ranks Lower as New Year's Getaway
Tuesday, December 27, 2005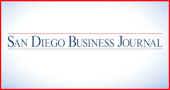 San Diego fell from sixth to 10th place among preferred spots to ring in the new year, according to a ranking by a leading online travel agency.
But San Diego wasn't the only California city to lose favor among travelers' top picks for New Year's Eve vacations. Hotwire.com listed San Francisco in fourth place, a notch below last year's ranking, while Los Angeles had dropped from fourth to eighth place.
Chicago held first , the same as last year. Orlando, Fla., rose to second from fifth, but Phoenix rose literally from the ashes to reach third this year from 13th place in 2004.
Meanwhile, New York City, which is traditionally thought of as the nation's New Year's Eve destination, held seventh place for the second year.
"Chicago has become a perennial favorite destination for New Year's Eve festivities, due to its consistently low prices on hotels and attractive entertainment," said Barbara Messing, the vice president of customer experience at Hotwire.com. "We're also seeing increased interest in cities with more temperate climates, such as Orlando, Phoenix and Miami."
On Dec. 27, Hotwire.com was advertising hotel room rate reservations up to 60 percent off published rates during the New Year's Eve weekend, Dec. 30-Jan. 2. Examples included 3.5-star hotel rooms in Poway and Rancho Bernardo for $82 a night, and a 4-star room at a hotel near Los Angeles International Airport for $72 a night.
, Connie Lewis