ENVIRONMENT: SDG&E'S PROPOSED WIND FARMS TO SPUR INFRASTRUCTURE, EMPLOYMENT GROWTH
Wind Energy Companies Bringing Renewable Power to the Region
Monday, April 19, 2010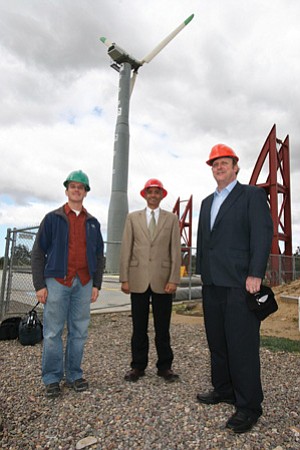 As the world continues on its quest to transform from oil-dominant energy practices to the use of renewable resources, San Diego is reducing its own carbon footprint, in part, by creating wind farms in and around the region. These wind farms are being touted as stimulating economic development and job creation as well as relieving stress on the energy grid.
The National Renewable Energy Laboratory has identified portions of eastern San Diego County, Imperial County and the northern Baja California region as some of the top locations in the country to generate electricity from renewable resources, including the sun, wind and geothermal steam heat. This is why San Diego Gas & Electric Co. has two planned wind farms in East County.
In June 2009, SDG&E, the Campo Band of Mission Indians of the Kumeyaay Nation and Chicago-based wind power company Invenergy LLC jointly announced a plan to build a wind project capable of generating up to 160 megawatts of renewable power, which is enough clean energy to power 104,000 homes.
The project, which could offset 57.6 million tons of carbon dioxide emissions annually, could come online as early as 2012. The project is subject to environmental review under the National Environmental Policy Act as well as approval by federal officials and the California Public Utilities Commission for the sale of the power to SDG&E.
This project represents the tip of the iceberg for renewable energy development in eastern San Diego County as it is expected to spark the creation of new green-collar jobs, said Art Larson, SDG&E's senior public relations manager. He added that these renewable energy projects will result in economic and environmental benefits and will help spur the development of critical infrastructure to deliver that power to customers. Larson said the wind farm will also help SDG&E reach its goal of achieving 33 percent of power deliveries from renewable resources by 2020.
The project is being developed by Invenergy, one of the top wind development companies in North America that currently operates 2,000 megawatts of wind power.
"We are very proud and excited to be working with the only tribe in the nation that currently operates a wind farm development on tribal land," said Mick Baird, Invenergy's vice president of development for the San Diego region. "Invenergy will continue to work with the San Diego community in educating the region about the benefits of wind development and the benefits of renewable projects for our environment."
Infrastructure Planned to Supply Grid
SDG&E is also planning a number of infrastructure enhancement projects such as the Sunrise Powerlink, a 120-mile transmission line proposed to carry renewable energy from the Imperial Valley to San Diego, and a new electric substation that will help deliver renewable power into the grid while enhancing energy reliability for customers, Larson said.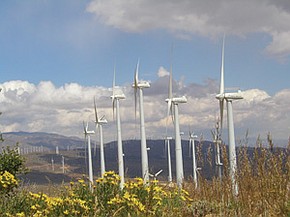 The company is in the early stages of another planned wind farm on the Manzanita Indian Reservation in East County. The planned project, which could come online as early as 2012, is expected to generate 57 megawatts of power. This month, SDG&E plans to install four meteorological towers to collect wind data for the site, according to Larson. The proposed project doesn't have a price tag yet.

"Wind power is a natural part of SDG&E's power mix because the turbines do not tap our increasingly valuable water supplies to generate electricity nor do they generate any air emissions," Larson said. "Our strong interest in wind energy and other renewables is a response to California's adoption of aggressive renewable portfolio standards and federal and state mandates to reduce greenhouse emissions. We look forward to working toward meeting those goals."
Another local company hoping to add to Southern California's wind power production is Oak Creek Energy Systems Inc. in Escondido. Oak Creek, a wind energy pioneer, built one of the first wind farms in California in early 1982. The company has long played an active role in the wind energy industry and has worked to advance major transmission improvements to the state's Tehachapi area, which will also provide major benefits to the California power grid, according to Ed Duggan, the company's executive vice president.
Several years ago, Oak Creek formed a joint venture subsidiary with an Australian partner — Allco Renewable Energy Group — called Alta Innovative Power Co. LLC, which focused on the long-term major expansion of wind capacity in the Tehachapi Wind Resource Area of California. In December 2006, Alta signed a power purchase agreement with Southern California Edison to deliver 1,550 megawatts of wind energy from new projects under long-term development in the Tehachapi Wind Resource Area to be installed between 2009 and 2015. The power purchase agreement was announced by Southern California Edison as the largest renewable energy contract ever signed by a utility in the United States.   
Allco was one of the first casualties of the financial instability that developed in 2008 and Allco's share of the project was sold to Terra-Gen Power LLC, an affiliate of Arclight Capital Partners LLC, before the end of 2008, said Duggan. In early 2009, New York-based Terra-Gen, which has a San Diego office, took over the lead role in the development of the Alta project. The first of these projects will be in the part of the Tehachapi Wind Resource Area designated by Kern County for wind energy development. This project is a key part in implementing California's Renewables Portfolio Standard, a groundbreaking energy policy requiring 20 percent of California's electric energy needs to be met by renewable sources by 2010, Duggan said. He said the project is a big step toward achieving a new model for future larger-scale developments necessary to meet the state's new requirement of 20 percent of retail energy sales by 2010 from renewable sources and higher goal of 33 percent by 2020.
Home Grown Renewable Energy
The agreement also comes at a time of intense worldwide awareness of climate change and fluctuations in fuel prices.
"Americans are increasingly concerned with enhancing sustainability and national security via domestic production of renewable energy," said Hal Romanowitz, president and chief operating officer of Oak Creek Energy Systems. "The Alta Wind Energy Center will set the new standard for the type of project needed to meet our country's growing appetite for environmentally friendly, renewable energy states."  
The Alta project will be developed over several years to match the availability of power transmission resulting from the 4,500 megawatt Tehachapi Transmission Project, a series of new and updated electric transmission lines and substations that will deliver electricity from new wind farms in the Tehachapi area to Southern California Edison customers and the California transmission grid. 
Such projects have created a windfall for rural areas, including much needed job creation and economic development.
"The Tehachapi-Mojave Wind Resource Area is vital to the economic viability of Kern County," said Linda Parker, executive director of the Kern Wind Energy Association in Bakersfield. "With the expected growth of 4,500 megawatts in wind and solar developments, green jobs-training programs are becoming the way of the future in Kern County. Studies have shown that there are 4.6 green jobs per megawatt, which means potentially 20,700 new jobs. That is phenomenal, not only for our industry but for the local community and economy."  
Parker added that wind power is a viable part of the state's renewable energy portfolio because it helps reduce pressure on the already bulging energy grid.
"Until this year, the transmission grid in the Tehachapi-Mojave Wind Resource Area was congested and did not have the ability to send any new or additional wind generation to the transmission grid," she said. "The local wind community worked tirelessly with the California Public Utilities Commission, Southern California Edison and many stakeholders to determine the need for the Tehachapi Renewable Transmission Project.  This project, of which the first phase was completed in early 2010 and the remainder is expected to be completed by the end of 2012, will allow our industry to grow dramatically as well as allow us to sell our wind and solar generation to other utilities. It is a very exciting time for us in the industry. I refer to it as our wind rush." 
While the Tehachapi Wind Resource Area continues to be developed, Oak Creek Energy is working with partners on other potential wind farm projects, including one in the Midwest with Missouri-based Springfield Development Co. that will produce more than 1,000 megawatts of power upon completion; and a Great Basin Wind project near Reno, Nev., which will produce up to 600 megawatts of wind power. 
Wind Energy Pushes Forward
Oak Creek was launched at a time in the early 1980s when wind energy was all the rage — it was a novel industry that was spurred by the era's gas crisis. However, many wind turbine and energy companies ran into trouble during the mid-1980s due to failed technology and wind turbines, Duggan said. Oak Creek, which was one of those companies, filed for bankruptcy in 1987. That's when Romanowitz and Duggan were hired by the trustee to create and implement a plan to turn the operation around. A majority interest in Oak Creek is now owned by Marubeni Corp., one of Japan's largest general trading companies.
Duggan said companies like Oak Creek and the wind energy industry were propelled forward when energy shortages caused fossil fuel prices to spike at multiple points during the first 10 years of the 21st century. 
"The reality is that we've been too dependent on fossil fuel for decades and our national security interests now demand that wind, solar and other renewable energy sources become an important part of our electrical generation mix," Duggan said.
He said this agenda has been powered during the last couple of years by increased government mandates, tax incentives and cash credits, along with a realization that wind energy generation technology actually works.

"Americans' desire to have a cleaner environment and to avoid global warming has also played a critical role in the acceptance and amplified development of wind power," Duggan said.
America's wind power fleet of 35,000 megawatts will avoid an estimated 62 million tons of carbon dioxide annually, equivalent to taking 10.5 million cars off the road, according to a recent annual report by the Washington, D.C.-based American Wind Energy Association. The report also points out that America's wind power fleet will conserve approximately 20 billion gallons of water annually that would otherwise be lost to evaporation from steam of cooling in conventional power plants.
Industry Ready to Take Flight
The national wind industry is on the verge of explosive growth if the right policies — including a national Renewable Electricity Standard, or RES — are put in place, according to the association.
"A national RES will provide the long-term certainty that businesses need to invest tens of billions of dollars in new installations and manufacturing facilities which would create hundreds of thousands of American jobs," said Denise Bode, CEO of the American Wind Energy Association.
According to the association's report, the U.S. wind energy industry installed more than 10,000 megawatts of new wind power generating capacity in 2009, the largest year in U.S. history, and enough to power the equivalent of 2.4 million homes or generate as much electricity as three nuclear power plants. Roughly 85,000 people are employed in the U.S. wind industry today and hold jobs in areas such as turbine component manufacturing, construction and installation of wind turbines, wind turbine operations and maintenance, legal and marketing services, and transportation and logistical services. 
"In general, the wind industry has been growing because the technology advances have brought prices down and the utilities have realized the importance of having fuel-free resources in their mix to try to reduce the carbon footprint," said Kathy Belyeu, manager of Industry Information Services for the American Wind Energy Association.
"The utilities are the companies that touch the retail electricity customers," she added. "It's their decision that drives the creation of more wind energy projects."
Belyeu said wind power is necessary for the country to move forward in solving some of its bigger environmental problems.
"This is an energy source that has no emissions or pollutants," she said. "The American people want to see their electricity come from clean energy sources and they are asking for that and it is finally coming to fruition."
Andrea Siedsma is a freelance writer for the San Diego Business Journal.