MEDICINE: FIRM ALSO SEES AESTHETIC USES FOR CRYOABLATION TREATMENTS
Cold Temperatures May Be Tool To Freeze Disease in Its Tracks
Monday, July 2, 2012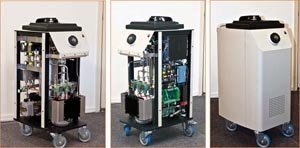 CRYOMEDIX LLC
CEO: Bill Nydam.
Revenue: Pre-revenue.
No. of local employees: Four employees in Southern California plus several in Albuquerque, which will be relocating to San Diego upon funding.
Investors: 10 California investors.
Headquarters: San Diego.
Year founded: 2009.
Company description: Medical device company that treats multiple health care diseases using freezing temperatures.
Key factors for success: Raising funds to move to commercialization.
During 35 years in the health care industry, Bill Nydam has learned enough about cryoablation to take the existing technology and together with CryoMedix LLC co-founders Peter Littrup and Alex Babkin expand its use to a number of multibillion-dollar markets...