TECHNOLOGY: FIRMS GET HELP IN CREATING AN EFFECTIVE ONLINE PRESENCE
Content Strategists Take Medium and Messages to the Next Level
Monday, July 2, 2012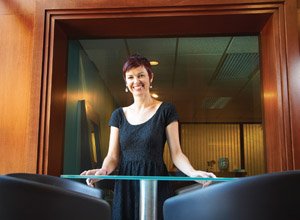 Caritta Lee says her job is part treasure hunter, part artist and part scientist.
Actually, she is none of the above.
Lee is a content strategist, overseeing the website of San Diego County's third largest public company, Life Technologies Corp.
Just as books have editors to make everything hang together, websites have content strategists. People who practice this digital-age craft say that as sites are created, grow larger and develop, they need content strategists to maintain consistency, focus and timeliness.
Content strategy is an emerging practice, said Shelly Bowen, a San Diego-based content strategist and principal of Pybop LLC.
Lee arrived at Life Technologies in April and was handed the task of improving the biotech company's online presence. Life Technologies has grown to $3.78 billion in revenue. Its website, meanwhile, has sprawled to 10,000 to 12,000 pages. "We don't know how many," Lee said.
To get a handle on the project, Lee said she chose a piece of it — website pages on the subject of cloning — then settled down to read every bit of copy and catalog all the components, such as PDF files and videos.
Once she's done with this audit, she and her co-workers will set out to improve the site.
Lee puts her bachelor's degree in biology to good use in her job, presenting information to scientists. There is also a scientific component in the structure or framework of the website. She compares it to the floor plan of a house.
Content is King
When it comes time to redecorate the house, Lee and the Life Technologies staff can discuss content such as videos and copy. That's the artistic part of the job.
Lee previously worked as a content strategist with Walt Disney Parks & Resorts Online, and in Web content roles at Myspace and the National Oceanic and Atmospheric Administration.
Content strategy is "the buzzword of 2011," said Edwin Lap, CEO of Cofa Media, an interactive agency with an office in Carlsbad and 11 employees.
And it's at the core of all websites, Lap said, whether they are five pages for a small business, or 2,000 pages for a big business.
Pybop's Bowen falls back on the words of Kristina Halvorson, who runs a business called Brain Traffic in the Twin Cities, for a description of the discipline: content strategy is "the practice of planning for the creation, delivery and governance of useful, useable content."
"Useful and useable" are keywords in that phrase, Bowen said. Otherwise, content can be outdated, unnecessary or superfluous. It can be trash.
Design the Message Before the Site
Bowen notes that some website creators put the cart before the horse, producing all the other aspects of the site and setting aside an arbitrary amount of space for the text. Copywriting comes with the last-minute push to finish the project.
It's not the optimal way to do things, she said.
Content strategists know the audience they're trying to reach, and they communicate in a voice and a tone appropriate to that audience, Bowen said.
Bowen — who works with content strategist Carol Valdez and writer/editor Hilary Achauer — set up her small business in 2008, after producing online content with firms such as Intuit Inc. and RealAge Inc.
She prefers to be paid by the project and receive installments on reaching certain milestones.
A large and memorable campaign was a large site supporting "Dr. Oz's Transformation Nation," a television program that aired over seven months in 2011, encouraged healthy habits, and offered a $1 million grand prize. It was a project replete with challenges. The writing fell to two people (Bowen and Achauer) and sponsors sometimes differed on how to handle certain topics.
Still, Bowen said the show and its companion website encouraged 300,000 people to weigh-in at sponsor Weight Watchers International Inc., and it helped people lose 3 million pounds.
Google Is Watching
Most projects take weeks rather than months, Bowen said. Companies typically hire a content strategist when management realizes that the public really does not understand the company's product or service, she said.
As with Lee, Bowen begins with an audit of a client site, then, moves to alter the content to support client goals.
Bowen's typical client, incidentally, is outside of San Diego. She said she frequents conferences and finds clients through conversations there.
Lee, from Life Technologies, said content strategy hubs have emerged in San Francisco, Los Angeles, Chicago, Washington, D.C., and Austin, Texas. San Diego is a growing market, she said.
The growing popularity of mobile devices is producing a new era of content strategy, said Cofa Media's Lap.
Sites accessed through desktop computers can have copy that stretches for 1,000 words, but content for handsets must be "concise and precise," Lap said.
As for the value proposition of hiring a content strategist?
Lap says Google Inc. looks at the quality of Web content when deciding how to rank a site in its search results. Grammar, spelling and the unique features of content make a site stand out.
Some people may want to cut corners when producing a website. Some may prefer to hire a student to rewrite copy at cut-rate prices. Like anything else, however, a low-tech maxim applies. "You do get what you pay for," Lap said.