Local Construction Contracts Up 17 Percent This Year
Monday, July 2, 2012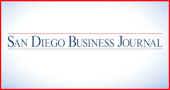 San Diego County contracts for future construction were up 17 percent from a year ago in the first five months of 2012, according to data reported June 29 by McGraw-Hill Construction.
Year to date construction activity, including residential and nonresidential building, totaled more than $1.47 billion from January to May, compared with $1.26 billion in the year-ago period.
Nonresidential activity rose 33 percent in the first five months, to just over $1 billion. Residential construction declined 13 percent, to approximately $394.5 million.
During the month of May, total construction contracts were down 48 percent from a year ago, to $255.8 million. Nonresidential activity declined 49 percent and residential building dropped 43 percent, according to New York-based McGraw-Hill.
California activity overall was up 28 percent in May, but down 13 percent year-to-date.