ServiceNow Stock Rises on First Day of Trading
Monday, July 2, 2012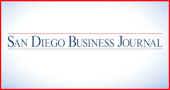 ServiceNow Inc., the San Diego provider of cloud-based technology services, popped by about 37 percent on its initial public offering with the stock closing at $24.60 on its first day of trading June 29.
The stock that trades under the ticker NOW on the New York Stock Exchange issued 11.6 million shares, raising $210 million for the eight-year-old business that was founded by Fred Luddy, the former chief technology officer for Peregrine Systems Inc. Peregrine, a local software public company, was the victim of a widespread accounting fraud earlier in the decade that resulted in a slew of criminal convictions of top executives. It filed for bankruptcy in 2002 and was once headed by San Diego Padres majority owner John Moores.
As a result of the increased stock price on NOW, ServiceNow's market valuation soared to $2.17 billion, or about 14 times its trailing 12-month sales, according to Bloomberg News.
The successful IPO for NOW, at least on the first day, was in stark contrast to the dismal showing by Facebook's stock offering which had a slight increase on the first day, but has fallen since by 32 percent.
The strong showing will likely influence other technology companies to issue stock. Among those is Peregrine Semiconductor Corp., a San Diego maker of radio frequency integrated circuits. The company is not related to Peregrine Systems.
For the first quarter, ServiceNow reported a net loss of $5.6 million on $47 million in revenue. That compared with a net profit of $2.9 million on $25 million in revenue for the like quarter of 2011.