Supervisors Approve Airport Taxiway Reconstruction
Monday, July 2, 2012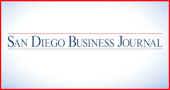 The San Diego County Board of Supervisors has unanimously approved a $3.58 million taxiway reconstruction project at McClellan-Palomar Airport in Carlsbad.
Three taxiways will be rebuilt to correct deteriorating conditions, improve safety and reduce wear and tear on planes using the airport, according to a June 21 statement from the office of Fifth District Supervisor Bill Horn.
The Federal Aviation Administration notified the county in January that it would cover 90 percent of the project cost, with approximately $3.14 million in grant funds. The remainder will be covered under the county's airport enterprise fund, with no impact to the general fund, the statement said.
The county Department of Purchasing and Contracting will advertise and award the project to the lowest, responsible bidder by early August. Construction is expected to begin in November and be completed by April 2013.
Work on the taxiways will be done at night and the airport will reopen each morning, minimizing impact to business and travel.
The county-run airport, at 2192 Palomar Airport Road, is deemed a major gateway to North County travelers and is home to 274 aircraft.