Northwestern Mutual to Add Staff
Tuesday, July 3, 2012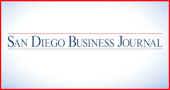 Northwestern Mutual Life Insurance Co. will add 50 financial representatives and 75 interns this year at its San Diego offices as part of a nationwide effort by the company to recruit more than 5,000 financial professionals in 2012, the company said recently.
Northwestern Mutual says it's taking active steps to grow its field force to keep pace with a growing demand locally for financial security guidance, products and services, adding new representatives and interns at a fast pace.
The company said it expects that more than half of the new representatives will be career changers, or professionals who believe they've reached the ceiling in their current occupation and are looking for a new opportunity, the company said.
"These career changers are motivated by the rewards, both personally and professionally, of helping people shape and execute plans to realize their life goals," said Garrett J. Bleakley, managing partner of Northwestern Mutual's San Diego Group.
For more information, visit www.nmfn-sandiego.com.
—Mike Allen