Work Continues on North Embarcadero Project
Tuesday, July 3, 2012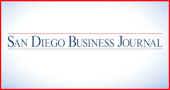 Contractor USS Cal Builders has begun repaving the northern end of the North Embarcadero project area, as work continues on the $28.6 million first-phase renovation of the downtown San Diego waterfront district.
According to a construction update issued June 29 by the Port of San Diego, repaving is progressing just north of the B Street traffic crossing on North Harbor Drive, near the B Street Cruise Ship Terminal. Construction fencing in that area will be taken down in about two weeks, and the area will be temporarily restriped with parking stalls.
Painting of the B Street terminal is scheduled to begin this week, as part of a major maintenance effort, the port district said.
Day work continues to progress on the east side of North Harbor Drive, between Ash and F streets and on West Broadway between North Harbor Drive and Pacific Highway. West Broadway will remain closed to eastbound traffic between North Harbor and Pacific Highway for approximately two more months, as USS Cal builders continues with construction of the median and southern half of the new roadway.
San Diego Gas & Electric Co. has completed night work on West Broadway to install new electrical conduits, although USS Cal Builders is performing intermittent night work in some intersections to install water lines and other utilities.
Phase 1 work began earlier this year and is expected to be completed in fall 2013. The project was funded by the port district, the city of San Diego and its downtown redevelopment agency.
— Lou Hirsh