AmericanWest Bank Closes Security Business Bank Acquisition
Friday, July 6, 2012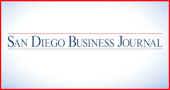 AmericanWest Bank completed the acquisition of Security Business Bank of San Diego in a deal that was first announced in March, the Spokane-based bank said.
Shareholders of SBB as well as banking regulators approved the deal that calls for SBB shareholders to receive $14.32 in cash per share or about $27 million for the bank that had $225 million in assets at the end of the first quarter.
Including assets AmericanWest already owns in San Diego County through its acquisition of Sunrise Bank last year, it now has about $400 million and eight offices, including four in San Diego, two in Escondido, Carlsbad and Palm Desert.
AmericanWest CEO Scott Kisting said the transaction is a win-win for clients. "They continue to receive outstanding service from the same experienced bankers they've come to trust, and now (have) access to increased lending capabilities, expanded products and services, and greater convenience in the form of additional locations," he said.
In total, AW has about $2.5 billion in assets and operates 74 branches in Washington, Idaho, California and Utah.