Covario Sees Asia-Focused Business Growing
Friday, July 6, 2012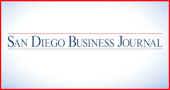 Covario Inc., a San Diego search engine marketing business, says it's on pace for another record year with online search advertising spending by marketers to Asia increasing 41 percent in the second quarter, compared with the same period last year. That surge was followed by spending to reach customers in the Americas and Canada with a 15 percent year-over-year increase, and then in Europe, where the increase was only 2 percent, the company said.
The company's quarterly report, which includes cost per click analysis of major search engines, found that keyword pricing increased for the first time since the third quarter of 2011.
In 2011, Covario reported revenue of $25 million, up from $22 million in the prior year.
The uptick in business at Covario resulted in a hiring binge of sorts, and a move to a larger space in the University Towne Center area. It now has some 21,000 square feet in two floors, a big improvement over its former office in Carmel Valley where it had only a half of a floor. The local staff increased over the year to 116, up from 85, said spokesman Rick Clancy.