MEDICINE: METHOD WOULD USE A SCAN FOR EARLY DISEASE DETECTION
With a Quick Scan, Eye Could Be Window To Diabetes Diagnoses
Monday, July 9, 2012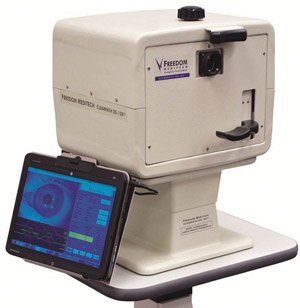 FREEDOM MEDITECH
CEO: Craig Misrach.
Revenue: Pre-revenue.
No. of local employees: Three full-time employees, plus 42 active consultants. Two full-time employees and 20 active consultants are local.
Investors: 40 unnamed investors.
Headquarters: Corporate offices in San Diego with supporting engineering, ancillary research and development activities in Cleveland, Ohio.
Year founded: 2006.
Company description: Medical device developer.
Key factors for success: Regulatory clearance and being well-capitalized.
Freedom Meditech is taking some of the blood work out of diagnosing diabetes by developing a noninvasive method of detecting the chronic disease through an eye scan...