Workforce Partnership Names CEO
Monday, July 9, 2012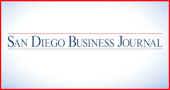 The San Diego Workforce Partnership, the regional job training agency, named Peter Callstrom as its new president and chief executive officer.
Callstrom, executive director of the San Diego County Regional Task Force on the Homeless, replaces Mark Cafferty, who was named as the president and CEO of the San Diego Regional Economic Development Corp. in December.
The agency with an annual budget of $36 million, virtually all of it from the federal government, contracts out with a variety of providers for job training including Veterans Village of San Diego, MAAC Project, YMCA of San Diego County, South Bay Community Services and UC San Diego.
Callstrom begins his new job July 16, the agency said.