Genius Brands Signs Nokia Deal
Tuesday, July 10, 2012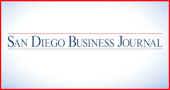 Genius Brands International, the San Diego-based developer and marketer of Baby Genius products for young children, said it entered into a partnership with Nokia Corp. that will put the company's applications on Lumia smartphones running on Microsoft's Windows platform.
The company said it is developing its Baby Genius apps featuring its "Ready, Play, Learn" line of educational games. The games are intended to help preschoolers make a better transition to kindergarten.
The first two apps in the series are in development and are scheduled for launch soon, the company said. The "try and buy" apps will feature both free and premium content, and permit parents to acquire more content.
Genius Brands said additional apps are scheduled to be launched in the fourth quarter. The company that has 14 full-time employees didn't say how much it expects to generate in terms of revenue from the new agreement.