Medical Groups Draw Praise
Wednesday, July 11, 2012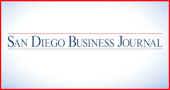 Scripps Health is getting top rankings in a survey of patients that rated Scripps Coastal Medical Group and Scripps Clinic Medical Group No. 1 and No. 2, respectively, in San Diego County for the quality of primary care services.
Scripps Coastal, which offers more than 100 physicians in 12 offices from Oceanside to Eastlake, also ranked No. 2 in the state and Scripps Clinic, a medical group representing 50 medical specialties in 11 locations throughout the county, ranked No. 9 in the state.
The Patient Assessment Survey by the California Cooperative Healthcare Reporting Initiative has ranked Scripps Coastal and Scripps Clinic among the top three medical groups in the San Diego region for the past four years, according to a Scripps Health statement. The assessment rates overall health care services, primary care physicians, specialty care, physician communication and patient access to care, among other things.
"This ranking reaffirms our mission: provide the highest quality, patient-oriented care in an atmosphere that promotes health and well-being," said Dr. Kevin Hirsch, president of Scripps Coastal Medical Group.
The California Cooperative Healthcare Reporting Initiative is a statewide collaborative of health plans, provider organizations and purchasers, which conducts an annual survey to assess commercial HMO and point of service patient experiences with the care delivered by their medical groups.