Net Income Improves for WD-40
Wednesday, July 11, 2012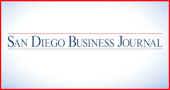 WD-40 Co. reported third quarter net income of $9.1 million, up 13 percent from the like quarter of 2011. For the three quarters, WD-40 said it made $26.5 million in net profit, up 1 percent from the prior year.
Revenue for the quarter that ended May 31 was $87 million, up 2 percent from the like quarter of 2011. Year to date revenue was $257.9 million, up 5 percent from the like period of last year.
CEO Garry Ridge said he was pleased with the results so far, but cautious about the continuing volatility of commodity prices and uncertain economic conditions in Europe and its impact on overall sales.
The company forecast 2012 net sales of $353 million to $370 million, and net income from $37.2 million to $39.2 million. Diluted earnings per share are expected from $2.33 to $2.45 based on an estimated 16 million shares outstanding.
During the third quarter, the company purchased about 183,000 shares of its common stock, part of a buyback program it launched in December and allocated up to $50 million.