New Carrier's First Plane Arrives in Carlsbad
Wednesday, July 11, 2012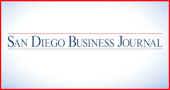 The first plane of new local carrier California Pacific Airlines arrived recently at McClellan-Palomar Airport in Carlsbad. The company is in the midst of a multistage federal certification process, and airline officials have estimated an October start date for local service.
The Embraer 170 now at the airport is one of three aircraft planned for North County's newest commercial airline. The twin-engine jet can accommodate up to 72 passengers.
Airline officials could not immediately be reached for comment. Officials have said the carrier by year's end, or early 2013, plans to offer daily flights to Las Vegas, Oakland, San Jose, Sacramento and Phoenix. Service to Cabo San Lucas would be offered three times per week.
"This is great news for North County," San Diego County Supervisor Bill Horn said in a statement issued by his office, related to the plane's arrival at the county-run airport. "California Pacific Airlines will bring more jobs and more revenue to the area, and that's what we need more of."