New Retailer Arrives, Two Expand at Fashion Valley
Wednesday, July 11, 2012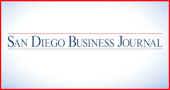 Women's fashion retailer Loft is joining the roster of stores at Fashion Valley, and two others have announced expansions at the Mission Valley mall.
A statement from mall operator Simon Property Group Inc. said Loft's 4,400-square-foot store, on the lower level across from Macy's Inc., is scheduled to open on July 13.
The mall's Cotton On, which sells clothing and shoes for men and women, is expected to reopen in late summer or early fall, following an expansion that will give it a total of 6,855 square feet, also near Macy's.
Foot Locker has completed a remodeling of its 9,367-square-foot store on the mall's first level, near J. C. Penney & Co., the statement said.
The largest regional mall in San Diego County has recently added several new merchants and is nearing completion on a $15 million renovation.