Entropic Acquires Technology From PLX
Thursday, July 12, 2012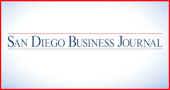 Entropic Communications, a San Diego maker of hardware and software used in home entertainment systems, said it acquired the broadcast satellite intellectual property and technology from Sunnyvale-based PLX Technology Inc. for up to $8 million and a one-time licensing fee of $4 million.
The acquired assets are complementary to Entropic's direct broadcast satellite (DBS) outdoor unit product portfolio, and will strengthen its position as the DBS market transitions to a satellite-to-Internet-protocol technology, the company said.
Entropic announced in late June that it expects a better second quarter than it originally forecast in April. The company raised its anticipated revenue for the quarter to a range of $81 million to $82 million, up from the earlier forecast revenue of $75 million to $77 million.
It also forecast earnings per share at break-even. Entropic will release its quarterly financial results Aug. 1.