SpectraScience Headed to Europe
Thursday, July 12, 2012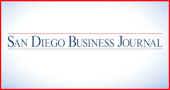 SpectraScience Inc., a San Diego-based medical device company, said it expects second quarter revenue of about $310,000, and operating expenses in the quarter to be consistent with recent prior quarters.
CEO Michael Oliver said the company began shipments of its optical biopsy system to Pentax Europe just prior to the quarter's close on June 30, which accounted for the reported revenue.
"We are preparing additional shipment under the initial purchase order, and beginning training programs and business development activities with Pentax as part of the five-year, 23-country distribution agreement signed last month," Oliver said.
SpectraScience designs, develops, manufactures and markets light-based analysis systems capable of determining whether tissue is normal, precancerous or cancerous without physically removing tissue from the body, the company said.