Callaway Golf Plans to Cut Workforce by 12 Percent
Friday, July 13, 2012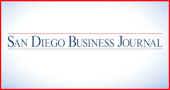 Callaway Golf Co. plans to cut 12 percent of its global workforce, amounting to approximately 250 positions, as the Carlsbad-based company looks to trim about $52 million in annual operating costs.
Executives of the sporting goods maker recently announced that job cuts would impact all regions and levels of the organization, but did not specify the impact on local operations. The company plans to streamline operations and sharpen its focus on core Callaway and Odyssey product lines, at an expected cost of $40 million over the next 12 months.
President and CEO Chip Brewer said long-term cost-reduction initiatives are consistent with other recent efforts to trim costs and stem operating losses. "As I mentioned last quarter, the company's business has not recovered at a satisfactory pace and we are taking actions to accelerate the recovery," Brewer said.
Changes are expected to have a greater impact on financial results in 2013 and 2014 than in 2012, he said, and the company no longer expects 2012 full-year results to be significantly better than last year.