EDUCATION: COLLEGE'S ACCREDITATION IS PIVOTAL ISSUE
Bridgepoint May Find Itself at a Crossroads
Monday, July 16, 2012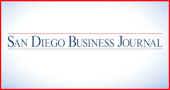 BRIDGEPOINT EDUCATION
CEO: Andrew Clark.
Revenue: $933 million in 2011; $713 million in 2010.
Net income: $172.7 million in 2011;
$127.6 million in 2010.
No. of local employees: 5,000.
Headquarters: Sabre Springs.
Year founded: 2004.
Stock symbol and exchange: BPI on the New York Stock Exchange.
Company description: A for-profit provider of postsecondary education mainly through its online channel, and two subsidiary colleges in Colorado and Iowa.
Bridgepoint Education, one of San Diego's fastest-growing companies that now has about 5,000 employees here, could move a substantial part of its local operations outside the state to retain its current accreditation...