Duty Free Store Set for Arrival at San Diego Airport
Monday, July 16, 2012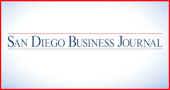 San Diego International Airport officials have approved plans for a new duty-free store, to be built in Terminal 2.
A recent statement from the San Diego County Regional Airport Authority, which oversees the facility, said the agency's executive board approved a seven-year lease with Duty Free Americas San Diego LLC to design, build and operate the store.
Targeted for a Dec. 1 opening, the store will sell liquor, tobacco, chocolate, perfume and other common duty-free products.
Officials determined that international flights will now support a duty-free store, with new service to Tokyo by Japan Airlines beginning Dec. 2. Current flights are offered to London, Mexico and Canada.
Officials said $2.3 billion is spent annually by visitors who arrive by air in San Diego, and international visitors stay longer and spend more than domestic travelers.
"Our goal is to provide our customers with a wide variety of options, and this duty free store will further expand our offerings," said Nyle Marmion, the airport authority's manager of concession development.
— Lou Hirsh