TearLab Raises $7.9M in Stock Offering
Monday, July 16, 2012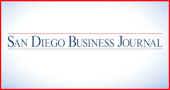 San Diego-based TearLab Corp. is selling 2.5 million shares of its common stock at a price of $3.17 per share, for gross proceeds of about $7.9 million, in an underwritten registered financing.
TearLab announced it has obtained commitments from two investors to purchase the shares in a deal that is expected to close July 18, subject to customary closing conditions.
The company says the offering will be used for working capital and general corporate purposes.
TearLab's stock, listed on the Nasdaq as TEAR, traded at $3.60 on July 13, a 9 percent increase from its previous closing price of $3.29.
The emerging medical device company's website says it develops and markets lab-on-a-chip technologies that enable eye care practitioners to improve standard of care by objectively and quantitatively testing for disease markers in tears at the point of care.
Founded through the April 2008 acquisition of San Diego-based OcuSense by OccuLogix of Florida, TearLab fully launched its first product, the TearLab Osmolarity System, in late January. The system is a point-of-care test for dry eye disease used by optometrists and ophthalmologists. Osmolarity, or the salt content in tear film, is considered the gold standard for diagnosing and monitoring the chronic and progressive dry eye disease.
— Julie Gallant