ViaSat Signs Deal to Provide Satellite Broadband Access in Australia
Tuesday, July 17, 2012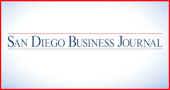 ViaSat Inc. has received a deal valued at more than $240 million that will help deliver broadband access to people in the most remote regions of Australia, including outback areas and distant territories such as Christmas Island and Norfolk Island.
Carlsbad-based ViaSat said it signed a contract with NBN Co. Ltd., which is owned by the Australian government. NBN will act as a wholesaler of broadband satellite access to the country's Internet service providers.
The Carlsbad company said it will provide consumer satellite terminals, including broadband modems and antennas, as well as 13.5-meter diameter satellite antennas for 10 ground station gateway facilities across Australia.
Commercial service is scheduled to begin in 2015.
The value of the deal is expected to increase as the network is built out to serve as many as 200,000 homes and businesses, ViaSat said.
The North County company currently has offices in Canberra and the Sydney area and is looking to add at least one more office.
Shares of ViaSat trade on the Nasdaq under the symbol VSAT.