Qualcomm's Bill Davidson Headlines Marketing Professionals Event
Wednesday, July 18, 2012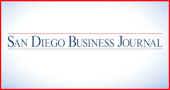 Qualcomm Inc. executive Bill Davidson will be keynote speaker for the San Diego Business Journal's inaugural Marketing Professionals Awards, set for the evening of July 26 at the Paradise Point Resort & Spa.
Davidson is senior vice president of global marketing and investor relations for Qualcomm, which grew to $15 billion in revenue in fiscal 2011.
Prior to joining Qualcomm in 2002, Davidson held jobs with Aether Systems, GE Capital and Bell Atlantic. At the latter company, he worked on both the wireless and wire line sides of the house.
Davidson sits on the boards of several industry and community associations. He is chairman of the board at the Institute for Communication Technology Management, which is part of the Marshall School of Business at the University of Southern California.
Davidson will share the stage with nine marketing professionals who will be honored during the evening's awards presentation. The Business Journal will announce winners from a field of 44 finalists.
"We at the San Diego Business Journal are excited that our Marketing Professionals Awards program is finally becoming a reality," said Randy Frisch, president and publisher of the San Diego Business Journal. "We hope that we can turn it into an annual tradition — for us and for San Diego's marketing community."
The event runs from 4 p.m. to 7 p.m. July 26 and will feature heavy hors d'oeuvres and a cash bar. The Paradise Point is at 1404 Vacation Road, off Ingraham Street near Mission Bay.
For information and tickets, go to http://www.sdbj.com/bizevents/register-sd-mpy/.