Gathering Looks for Essence of Good Marketing
Thursday, July 19, 2012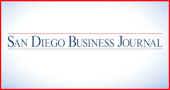 The essential element of a can't-miss marketing campaign is … what?
The San Diego Business Journal's inaugural Marketing Professionals Awards will take a dive into that issue, and other topics pertinent to the field.
The event is scheduled to run from 4 p.m. to 7 p.m. July 26 at the Paradise Point Resort & Spa on Mission Bay.
Event judges have singled out nine people for awards, from a field of 43 nominees. Separate awards will be given to marketing professionals representing nonprofits, privately held companies and public companies. Awards will honor the work of individuals, rather than the campaigns with the biggest budgets and the most resources.
Qualcomm Inc. executive Bill Davidson will be the evening's keynote speaker.
The 2012 Marketing Professionals Awards will feature heavy hors d'oeuvres, a cash bar and the atmosphere of Mission Bay. The Paradise Point Resort & Spa is at 1404 Vacation Road, off Ingraham Street.
For information and tickets, go to http://www.sdbj.com/bizevents/register-sd-mpy/.