LA Fitness Pumping $5M Into Local Club Renovations
Friday, July 20, 2012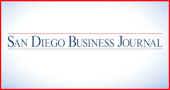 LA Fitness plans to invest more than $5 million to remodel 10 of its sports clubs in San Diego County this summer and fall.
The renovations will be completed on a rolling schedule, during which members will have access to most other clubs in the region, the Irvine-based company said in a recent statement.
Brief closures — most of them one to three days — are planned as the company updates interior design elements, equipment and other amenities. Schedules will ensure that clubs in the same proximity are not being remodeled at the same time, officials said.
Work was recently completed at an Encinitas location, and is scheduled to take place in August at clubs in Poway, Eastlake, San Marcos, 4S Ranch, Escondido and San Carlos. Renovations are slated for October in Sorrento Valley, with dates to be determined for clubs in Kearny Mesa and Vista.
Club addresses and other details are on the company's website, lafitness.com.