MEDICINE: LOCAL CENTER IS ONE OF FIRST TO USE PROCEDURE
New Tool Tackles Alzheimer's Diagnoses
Monday, July 23, 2012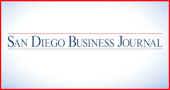 IMAGING HEALTHCARE SPECIALISTS
CEO: Jon M. Robins.
Revenue: $50 million in 2011; $48 million in 2010.
No. of local employees: 239 employees plus 39 doctors.
Investors: A physician-owned company, specifically radiologists.
Headquarters: San Diego.
Year founded: Formed in 2006 through merger of OpenAir MRI CT Centers (founded in 1997) and RMG (founded in 1918).
Company description: Medical diagnostic imaging.
Key factors for success: Subspecialty expertise and excellence of our physicians using the most advanced, latest technologies for medical imaging. Focus on service to our patients and our referring physicians.
Imaging Healthcare Specialists is leading the way locally and is among the first nationally to offer a brain imaging system to detect Alzheimer's disease in patients...