Jobless Rate Rises to 9.2 Percent
Monday, July 23, 2012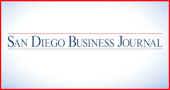 San Diego's unemployment rate increased in June to 9.2 percent, up from 8.8 percent in May, according to the state Employment Development Department's latest report.
The jobless rate for the region had been at 8.8 percent for both May and April. In June 2011, the region's jobless rate was at 10.4 percent.
San Diego's rate was below that of California, which came in at 10.7 percent and fell by a tenth of a point, but was above the national rate of 8.4 percent, the EDD report said.
Over the past month, the area added a net of 13,400 jobs, or twice what was added in May. However, because the labor force increased by some 15,000 people, unemployment increased.
As is the case every year, leisure and hospitality contributed the majority of the jobs, about 7,200, followed by construction with 2,600, and professional and business services, with 1,800 net jobs.
For the prior 12 months going back to June 2011, the area's total nonfarm employment increased by 24,000 jobs, or 1.9 percent. The largest sectors adding jobs were professional and business services, up 7,200; educational and health services, up 7,000; and leisure and hospitality, up 5,700.
Three sectors showed net losses over the same yearlong period: government, down 2,500; manufacturing, down 1,600; and information, down 400.