Obalon Gets $16.5M in Venture Capital
Monday, July 23, 2012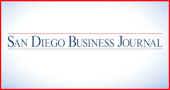 Carlsbad-based Obalon Therapeutics Inc. closed a $16.5 million series C private equity financing led by InterWest Partners of Menlo Park. Domain Associates, with headquarters in Princeton, N.J., and Okapi Venture Capital of Laguna Beach also participated.
Obalon also announced that it has secured Food and Drug Administration approval to evaluate the safety and effectiveness of the company's nonsurgical, fully reversible device for weight loss. The device consists of a capsule containing a balloon that is swallowed and then remotely inflated. The balloon is intended to occupy space in the stomach to create a feeling of fullness to help people eat less. At the end of the treatment period, the balloon is removed.
Four clinical trials of the device have been completed outside the U.S., the company said. A 34 percent excess weight loss occurred in a three-month clinical study in Mexico, and similar results were achieved in European studies, according to the company.