Life Technologies Throws Its Biotech Hat Into the $10M X Prize Ring
Tuesday, July 24, 2012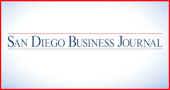 Life Technologies Corp., with headquarters in Carlsbad, will compete in the global competition for the $10 million Archon Genomics X PRIZE, to be awarded to the first entrant that rapidly and accurately sequences the entire DNA codes of 100 people at a cost of $1,000 or less.
Although the X Prize Foundation, sponsor of the Archon award, announced the competition six years ago, Life Technologies is the first entrant. When the contest was announced, more than 30 years and $100 million would have been required to decipher the whole genomes of 100 people, according to Jonathan Rothberg, founder and CEO of Ion Torrent Systems Inc. of Life Technologies.
The Ion Torrent team, led by Rothberg, will represent Life Technologies in the competition and use the Ion Proton Sequencer to sequence the 100 genomes.
The entrants in the competition will decipher the DNA of 100 centenarians, all of whom are members of Express Scripts Holding Company's 100 Over 100 program. Express Scripts, located in St. Louis, Mo, provides integrated pharmacy benefit management services.
After the competition begins in Sept. 2012, entrants will have 30 days to complete DNA sequencing.
The X Prize Foundation plans to create a public database of the DNA sequences and cell lines from the genomes that were deciphered in the contest. "The knowledge gained by compiling and comparing this library will further our understanding of health and longevity," according to the foundation.