Fleet Monitoring Companies Resolve Patent Litigation
Wednesday, July 25, 2012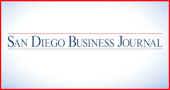 DriveCam Inc. and SmartDrive Systems, two San Diego companies providing video recording systems to vehicle fleets, agreed to resolve all outstanding patent litigation and trade secret claims between the companies concerning their respective products, the companies said earlier this month.
As part of the legal settlement, the businesses said they agreed to cross-license patents, but all other terms of the settlement are confidential.
The companies sued each other more than a year ago, each claiming the other made and used products that were based on technology protected by patents.
SmartDrive, which raised about $118 million in venture funding, has 375 total employees, while DriveCam raised a total of $130 million, and has 184 total employees.
— Mike Allen