Trust Buys Golden Hill Building to House San Diego Reader
Wednesday, July 25, 2012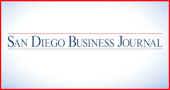 Holman Family Trust has purchased the Art Union Building in San Diego's Golden Hill area, where it plans to house its business, the San Diego Reader.
A statement from brokerage firm Colliers International said the 17,297-square-foot property at 2323 Broadway sold for $1.96 million. Colliers represented the sellers, Harmon Nelson and Cynthia Weiber, and Walsh Property Group represented the Holman trust.
The two-story building, which was renovated in 1993, is located just east of downtown and south of Balboa Park.
— Lou Hirsh