Cymer Reports 2nd Quarter Results
Thursday, July 26, 2012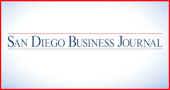 Cymer Inc., the San Diego maker of lasers used by manufacturers of semiconductors, reported second quarter net income of $9.6 million, compared with net income of $27.7 million for the like quarter of 2011.
Revenue for the quarter was $149.3 million, compared with revenue of $158.2 million for the like quarter of 2011.
The company said during the past quarter it shipped 36 deep ultraviolet (DUV) laser machines to customers and installed 31 DUV sources at chipmaker locations.
Gross profit for the quarter was $78.8 million, down from $84.2 million in the like quarter of 2011, the company said.
CEO Bob Akins called the second quarter an active and productive one. He forecast Cymer's installed base or maintenance revenue would rise in the third quarter, but expects overall revenue in the current quarter to be about the same as the second quarter.
Traded on Nasdaq under CYMI, shares were at $58.23 midday July 25, down 28 cents from the prior day's closing price. Its 52 week range is 34.57 to $62.10.
— Mike Allen