Joint Funding Will Provide $40M for CoDa Therapeutics
Friday, July 27, 2012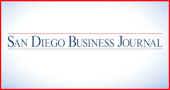 San Diego-based CoDa Therapeutics Inc. will receive $40 million from a group of investors led by Domain Associates LLC, with offices in San Diego and Princeton, N.J., and Rusnano, based in Russia.
A Domain portfolio company, CoDa is developing an experimental topical drug to promote wound healing in patients with venous leg ulcers and with diabetes and foot ulcers.
Earlier this year Domain and Rusnano, a Russian government sponsored investment firm, agreed to jointly invest $760 million in the U.S. and Russia.
The investors also include GBS Venture Partners in Australia and BioPacificVentures of New Zealand.
In a joint announcement, Domain and Rusnano said that the new investment will fund late stage clinical trials in the U.S. and Russia with CoDa's experimental wound healing drug.
"We are pleased that CoDa Therapeutics has been selected as the first strategic investment of the Domain Associates/Rusnano partnership," Domain partner Brian Dovey said in a statement. "This unique and significant fund will enable many promising therapeutic technologies under development by Domain portfolio companies to come to market sooner than might otherwise have been possible."
— Cathy Yarbrough