Revenue, Operating Funds Rise at Realty Income Corp.
Friday, July 27, 2012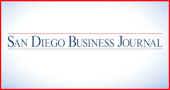 Realty Income Corp. of Escondido saw second-quarter revenue rise 13.8 percent and funds from operations increase 7.1 percent from the like period a year ago.
The commercial property investment firm said in a statement that revenue for the quarter ending June 30 reached $115.6 million. Funds from operations available to common stockholders, a recognized industry metric gauging the performance of real estate portfolios, totaled $65.2 million.
Net income available to common stockholders was $33 million, on par with $33.2 million reported in the same quarter of 2011.
Chief Executive Officer Tom A. Lewis said the company during the quarter saw an increase in rental revenue from its portfolio of properties, as tenant occupancy rose to 97.3 percent, compared with 96.6 percent at the end of the first quarter.
"We also invested $210.8 million in 145 new properties and properties under development, during the second quarter," Lewis said in the statement. "Importantly, 140 of the 145 properties acquired are leased to investment-grade tenants, consistent with our strategic focus on continuing to increase the overall credit quality of our real estate portfolio."
Realty Income is a real estate investment trust that invests in retail, industrial and related commercial properties. It trades under the symbol O on the New York Stock Exchange.
— Lou Hirsh