Planners Give the Green Light to Fat City Hotel Project
Monday, July 30, 2012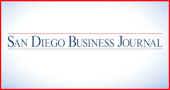 The San Diego Planning Commission has denied an appeal filed by a hotel workers union, clearing the way for construction to begin next year on a dual-hotel downtown project at the former Fat City/ China Camp restaurant site.
The Unite Here union had filed an appeal of Centre City Development's Corp.'s June approval of the 364-room hotel development. Planners ruled July 26 that the project complied with city regulations for land use.
The $40 million project at Pacific Highway and West Hawthorn Street, near Little Italy, includes a six-story, 239,100-square-foot building housing a standard hotel and an all-suites hotel.
Developers GLJ Partners and Jonathan Segal have said it will incorporate the Art Deco-style façade of the 1940s-era Tops Night Club, the predecessor of Fat City at that location.