United Technologies Completes Goodrich Corp. Acquisition
Monday, July 30, 2012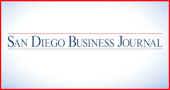 United Technologies Corp., a Connecticut-based defense contractor, completed its acquisition of Goodrich Corp., the parent firm of Goodrich Aerostructures based in Chula Vista.
UTC is paying $18.4 billion for Goodrich, based in Charlotte, N.C., which includes assuming $1.9 billion in debt. Goodrich shareholders received $127.50 for each share.
UTC announced it will combine Goodrich with an existing UTC subsidiary Hamilton Sundstrand which also has operations in San Diego, and establish a new aerospace headquarters in Charlotte.
Goodrich Aerospace, formerly known as Rohr Aircraft, became part of Goodrich following its sale in 1997. It has about 2,300 employees.
UTC's most recognizable brand names are Pratt & Whitney and Sikorsky.
Goodrich Aerostructures is the world's largest designer, manufacturer and servicer of nacelles, pylons and thrust reversers for commercial airlines, military aircraft and regional jets.
In addition to facilities in Chula Vista and Riverside, it has installations in Alabama, Florida, Washington, Texas, France, Germany, Singapore, Scotland, Mexico, Brazil, Turkey, and China.
The acquisition, which was first announced in September, needed signoffs from the U.S. Department of Justice and governments of several European nations and Canada, and required the sale of several units to satisfy anti-trust concerns.
With the merger of Goodrich, UTC will have about $66 billion in annual sales, including Goodrich's annual revenue of about $8 billion.