ConVis Honored by Four National Industry Magazines
Tuesday, July 31, 2012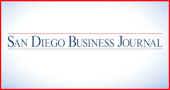 San Diego Convention & Visitors Bureau, also known as ConVis, recently racked up awards from four national magazines serving the convention and meetings services industry.
According to a bureau statement, ConVis earned a 2012 Pinnacle Award from Successful Meetings for the 19th year, based on reviews and rankings by corporate and association executives with meeting planning responsibilities.
The bureau received a 2012 Distinctive Achievement Award from Association Conventions & Facilities magazine, voted upon by subscribers for excellence in convention and visitor bureau services; and a 2012 Award of Excellence from Corporate & Incentive Travel magazine, based on service and support.
Also, ConVis earned a 2012 World Class Award from Insurance & Financial Meetings Management magazine, voted upon by more than 5,000 subscribers. The World Class Awards recognize hotels, resorts, conference centers and convention and visitor bureaus.
— Lou Hirsh