Coronado First Bank Generates Profit After Merger
Tuesday, July 31, 2012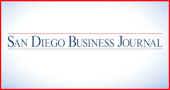 Coronado First Bank, purchased by Embarcadero Bank last year which adopted the acquired bank's name, said its unaudited, second quarter net income was $329,000; and net profit for the first half was $573,000.
Embarcadero purchased CFB for nearly $9 million in a transaction that closed in November when the combined assets of both banks were $161 million.
As of June 30, Coronado First said it had $160 million in assets, and $120 million in deposits.
The bank has a surplus of capital with its total risk-based capital ratio at 23.83 percent, more than double the amount needed to be considered well-capitalized.
The bank says its book value per share was $10.77 per share as of June 30, up 22 cents from the end of last year, and well above the $9.30 market price for its shares, traded under NADO on the Over the Counter Bulletin Board.
— Mike Allen