OneRecovery Chooses New Name to Reflect Widening Focus
Tuesday, July 31, 2012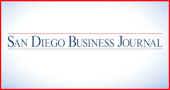 OneRecovery Inc. in Solana Beach is changing its name to OneHealth Solutions Inc. to more accurately reflect its focus on helping people improve their health and well-being beyond addiction recovery.
The company formed in 2008 around an online community that provides 24-hour support to people who want to overcome an addiction to narcotics, alcohol and nicotine. Members — who are typically invited to join the network by their treatment center or insurance company — get a profile page that looks similar to Facebook. Tools include a motivating recovery clock that ticks away every minute a member has gone without drugs or alcohol, and daily prompts to express their feelings by clicking on an emoticon.
The OneHealth transformation is based on an expansion of support services that includes online groups for those with obesity, depression and anxiety.
Drew Paxton, One Health's chief marketing officer, said new technology introduced in January enabled the company to broaden its support of behavioral health conditions, medical health conditions and families and caregivers. The expanded communities allow health planners and employers to refer employees to a central location for a more holistic solution to treating patients, he said.
"It's helpful from the employer or health plan perspective because they don't have to manage different vendors," Paxton said, adding that a healthy workforce contributes to higher productivity among employees as well as reduced absenteeism, disability and workers' compensation claims.
With the update comes increased accessibility on mobile devices and tablets, and it enables the company to do more data warehousing and analytics so they can provide more reporting back to health plans and employers on how the members are doing.
— Julie Gallant