Port Seeks Proposals for $500,000 in Environmental Projects
Tuesday, July 31, 2012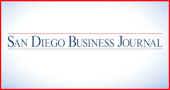 The Port of San Diego is requesting proposals for up to $500,000 in environmental projects expected to benefit San Diego Bay and surrounding tidelands.
At their recent monthly meeting, the Board of Port Commissioners approved funding to be made available for projects including those related to education, research, endangered species, habitat restoration, water and sediment quality, air quality and bay conservation.
A port district statement said applications will be accepted through Oct. 24. The minimum award for projects will be $10,000, and projects require a minimum of 30 percent matching funds or in-kind services.
The port's environmental fund was established in 2006. Officials have approved 62 projects and completed 42, committing $7.3 million and garnering $3 million in matching funds.
Recent projects have included green construction at Port Pavilion on Broadway Pier, restoration of 55 acres of salt marsh wetlands at Chula Vista Wildlife Reserve, shoreline enhancements at Emory Cove, and various wildlife preservation studies.
More information is on the port district website, portofsandiego.org.
— Lou Hirsh