Websense Net Income Increases
Tuesday, July 31, 2012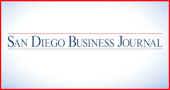 Websense Inc., the San Diego maker of web security software, reported second quarter net income of $7.9 million, compared with net income of $4.4 million in the like quarter of 2011.
Revenue for the quarter was $89.9 million, down from the prior year's second quarter when it did $90.7 million in revenue.
The company said it anticipates generating annual revenue for all of 2012 in a range of $359 million to $363 million, and earnings per share from $1.50 to $1.57.
After the results were released, shares of the company, traded under WBSN on Nasdaq, fell 8 percent but rebounded to close three days later at $15.41. Shares have ranged from $14.26 to $23.18 over the past 52 weeks. For the full year, the stock is down by 33 percent.
— Mike Allen