ENERGY: ALTERNATIVE FUEL GOALS ALIGN WITH LOCAL COMPANIES' RESEARCH
Military on Board With Green Power
Monday, March 26, 2012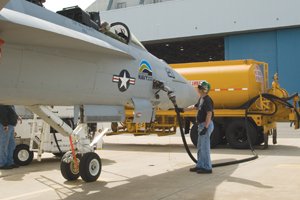 In 1907, President Theodore Roosevelt sent 16 U.S. Navy battleships around the world. The ships came to be known as the Great White Fleet.
A century later, President Barack Obama and Navy Secretary Ray Mabus are putting together a "Great Green Fleet." Mabus has set a 2016 deadline to power a carrier strike group — the ships and aircraft that travel with an aircraft carrier — on alternative fuels.
It's part of a U.S. government push to get military ships and aircraft to run on alternative sources of energy. The Navy hopes to get 50 percent of its liquid fuel from alternative sources by 2020. The U.S. Air Force has a similar goal.
Some of the scientific conversations behind the push are taking place in San Diego, home to the Navy's largest concentration of ships.
Sapphire Energy Inc., based on Torrey Pines Mesa, is one company that's part of the government's research efforts — and one that plans to help the strike group go to sea. The 155-employee firm has hosted Navy and other U.S. Department of Defense officials for scientific discussions. "They've kicked the tires," said Tim Zenk, the company's vice president of corporate affairs. The private company has shared liters of its product with government scientists.
Sapphire is working to produce biofuel from algae. "San Diego is kind of ground zero in the algae space," said Zenk. The firm has received $104.5 million in federal funds — including stimulus money as well as 2008 Farm Bill funding — as well as $100 million in venture capital. Sapphire is setting up a 100-acre algae refinery in New Mexico, with plans to expand that to 300 acres.
Firms Engaged in R&D
Also working to squeeze fuel out of algae is its neighbor General Atomics, which is working on the project with the Pentagon's research and development arm, DARPA, the Defense Advanced Research Projects Agency.
They are not alone. Heather Kowalski of La Jolla-based Synthetic Genomics Inc. said by email that her company has briefed government officials about its biofuel research, but gave no additional details. Synthetic Genomics is investigating several types of fuels, and has been looking into algae-based fuel with Exxon Mobil Corp.
The military is asking for a "drop in" replacement for diesel or jet fuel. In other words, diesel engines or turbines would require no modification to use it.
SG Biofuels, based in Carmel Valley, is one of several companies working to breed jatropha — a nonedible plant that produces large, oily seeds. Oil from the plant is a suitable substitute for jet fuel, said Brian Brokowski, SG Biofuels' vice president of communications. SG Biofuels received $17 million in series B funding in January; San Diego-based Life Technologies Corp. was one of the investors.
Prev Next