ENERGY: ALTERNATIVE FUEL GOALS ALIGN WITH LOCAL COMPANIES' RESEARCH
Military on Board With Green Power
Monday, March 26, 2012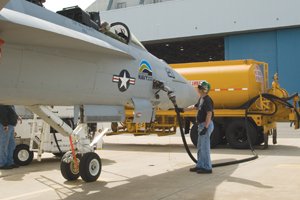 A growing number of flight tests prove alternative fuels work in aircraft.
Both the U.S. Navy and U.S. Air Force have tried out biofuels. A biofuel-powered fighter jet, an F/A-18F Super Hornet, took off from a Maryland airfield and broke the sound barrier on Earth Day of 2010. The "Green Hornet" ran on a fifty-fifty mix of biofuel and conventional fuel, provided by Illinois-based UOP LLC, a business unit of defense contractor Honeywell International Inc. The biofuel was refined from the camelina plant.
The Air Force has flown an F-22 fighter at 1.5 times the speed of sound at 40,000 feet using a 50-50 blend of conventional jet fuel and camelina fuel. By now the Air Force has flown various aircraft on biofuel blends, including cargo aircraft and bombers. In October, the service tested biofuels in its high altitude Global Hawk spy aircraft. (Northrop Grumman Corp. has a significant number of San Diego employees working on the Global Hawk.)
Lofty Biofuels Testing
Commercial airlines are testing biofuels as well. Their ranks include Air New Zealand, Continental Airlines and Japan Airlines. In August, Aeromexico flew a transatlantic flight in a Boeing Co. 777 using 30 percent jatropha fuel. Lufthansa German Airlines tested a 50-50 biofuel mix in one of two engines of an Airbus SAS aircraft flying the Hamburg-Frankfurt route for six months.
Sapphire's Zenk said biofuels are molecularly identical to petroleum-derived fuels. They usually have a lower freezing point and contain 3 percent to 4 percent more energy than their conventional counterparts.
SG Biofuels has a detailed account of a biofuel-powered Air New Zealand flight on its website.
Meanwhile, ship tests continue locally. Early this month, the frigate USS Ford made the trip from Washington state to San Diego, burning a 50-50 mix of algae-based fuel in its turbines.
During this summer's Rim of the Pacific war games, sailors will refuel carrier-based aircraft with biofuel. Mabus, the Navy secretary, laid out the plan during recent remarks.
The idea of a Great Green Fleet has attracted critics from the right of the political spectrum. Former House Speaker Newt Gingrich recently called algae-derived fuel an "absurd" and expensive idea, with a price tag of $140 to $900 a barrel. Crude oil prices, by contrast, hovered in the $107 range last week.
Mabus has argued — and reiterated this month — that there is a need and a historical precedent for the U.S. Navy to take up green fuels.
The U.S. government has little control over the world's oil supply, he said.
Over the years, he added, the Navy made transitions from sail to steam, from steam to diesel and from diesel to nuclear power. "At each of those transitions, there were those who questioned the need, challenged the cost or simply opposed change of any kind," he said.
Prev Next