REAL ESTATE: EXIT RATE HIGH AT SAN DIEGO OFFICE
Cushman & Wakefield Is Exploring Sale
Friday, March 6, 2015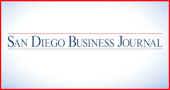 The majority owner of commercial real estate services provider Cushman & Wakefield Inc. is reportedly exploring a sale of the New York-based company, but it's not clear whether that is connected to the recent departure of at least 13 brokers from the firm's San Diego operations.
Since October, the company has seen about 15 percent of its local broker roster — which now stands at around 60 at three office locations — depart for rival providers in the San Diego County market.
Earlier this year, six of those Cushman brokers, specializing in office and industrial properties, jumped ship to join the newly opened Del Mar Heights office of Seattle-based Kidder Mathews, the newest entry in an already competitive field of local brokerage players.
Now with Kidder Mathews are veteran brokers Ron King, Joe McDermott, Robert Willingham, Mickey Morera, James Duncan and Jeff Brown. In late February, CBRE Group Inc. announced the hiring of Matthew Carlson, an office broker who had long been based in Cushman's downtown San Diego operations.
Those exits followed Voit Real Estate Services' announcement in October that it had hired former Cushman retail and office brokers Kipp Gstettenbauer and Ryan King, the same month that Colliers International said it hired away Cushman's urban-retail team of Bill Shrader, David Maxwell, Joe Brady and Serena Patterson.
Testing the Waters
The exits came as the Wall Street Journal recently reported that Cushman & Wakefield's majority owner Exor SpA, an Italian firm owned by the family that also controls Fiat Chrysler Automobiles NV, has hired Goldman Sachs Group and Morgan Stanley to shop the company to prospective buyers.
The privately held Cushman — the world's third-largest commercial brokerage firm after CBRE Group and JLL — has not confirmed reports of a potential sale. The company said in a statement that it has had "a great long-term relationship with Exor," which has fully endorsed its strategic plan and direction since acquiring it in 2007.
"There is currently no transaction to disclose, nor guarantee that such a review may result in any transaction involving Cushman & Wakefield," the company said.
Exor paid $565.4 million for a majority stake in Cushman and now owns 81 percent of the company, according to CoStar Group. Cushman officials said the company has recently achieved "record-breaking financial performance" for revenue and earnings.
Stephen Rosetta, vice chairman and managing broker of Cushman & Wakefield's San Diego County operations, said the firm is proceeding with replenishing its local broker roster.
"We are actively recruiting commercial real estate professionals who possess an entrepreneurial spirit, would like to benefit from the best global platform in the industry, and fit the client-only culture of Cushman & Wakefield," Rosetta said in an email.
Market Growth, New Players
Stath Karras, a former local Cushman & Wakefield executive who is now executive director of the Burnham-Moores Center for Real Estate at the University of San Diego, said broker defections and re-affiliations generally are not new to the local market.
He said turnover is often seen when the commercial real estate market is in growth mode, which is currently the case, and also when new players are coming into the market. In some cases, the new smaller players, such as Kidder Mathews, are able to offer certain perks, such as higher commissions, that are not possible with larger firms that have greater administrative overhead costs.
The tradeoff is that smaller firms may not have research and other support capabilities on the same level as the global players, so the experience of the broker becomes a big factor, he said.
"It's really not that unusual overall to see these types of changes in a competitive environment," Karras said. "Many times, the decision to change companies will be based on where we are in the real estate cycle, and also where that broker wants to be in terms of career position or salary and other things like that."
As with other industries, he said, there will always be situations where employers and employees decide to part ways over pay, performance and other issues.
In the post-recession period since 2010, San Diego County has seen a rising commercial market coincide with the arrival of several new players on the local scene, including Kidder Mathews, Avison Young and Newmark Grubb Knight Frank.
According to data provided by commercial brokerage firms for the San Diego Business Journal's 2015 Book of Lists, Cushman & Wakefield was the local region's fourth-largest brokerage provider based on local licensed agents. As of October 2014, the company had 62 licensed agents, 57 of whom were full time, based at offices in University Towne Center, downtown San Diego and Carlsbad.
The company has been particularly active in the local market since acquiring locally based Burnham Real Estate Services in 2008. For 2012, the most recent year for which full-year local data was available, Cushman was the region's third-largest provider in terms of local transaction volume, brokering $1.15 billion in deals, ranking locally that year behind CBRE Group and Cassidy Turley, now known as DTZ.
The top 10 firms in the San Diego County market fielded approximately $9 billion in commercial transactions during 2012 while employing 509 full-time local workers, according to Book of List data. A year earlier, the transaction tally was $7.7 billion and the employee count was 411.