MEDICINE: SEISMIC RETROFITS, MORE SERVICES DRIVE ACTIVITY
Health Systems Busy Building Up in County
Friday, March 6, 2015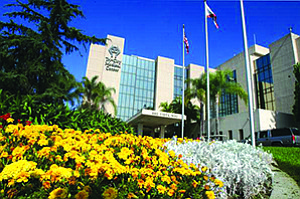 Health systems in San Diego County are facing a deadline to retrofit hospital buildings — or build new ones — to meet the state's rigorous seismic safety standards by 2030. Here's an update on recent projects at Scripps Health, Tri-City Medical Center and Kaiser Permanente:
Scripps Opens Cardiac Center
La Jolla welcomed its second state-of-the-art heart hospital in February when the $456 million Prebys Cardiovascular Institute opened its doors at Scripps Memorial Hospital.
The new facility has been occupied by about 700 Scripps Health employees — from nurses and doctors to technicians and clerks — for the past three months training for operations, catheterizations and other procedures that are offered at the center.
The 383,000-square-foot institute will consolidate the cardiac programs of both Scripps Memorial La Jolla and Scripps Green in San Diego, while also serving as a center for medical research, clinical trials and graduate medical education.
The new building has 108 inpatient beds in private rooms, 59 intensive care beds, six operating rooms and six cardiac catheterization labs equipped with modernized medical technology.
The tower of glass, brick and steel rises seven stories above Genesee Avenue, and is named for Conrad Prebys, a real estate developer and philanthropist whose $45 million gift helped fund the project.
The institute is part of a 25-year master plan developed by Scripps in response to the earthquake safety mandates issued over 20 years ago. Recent projects include the $220 million Scripps Proton Center; the $44 million Scripps Radiation Therapy Center; and a new emergency department, critical care building, medical office building and parking structure at Scripps Memorial Hospital Encinitas; and the Conrad Prebys Emergency and Trauma Center at Scripps Mercy Hospital.
The latest cardiac center joins University of California, San Diego's Sulpizio Cardiovascular Center — only a half-mile down the road in La Jolla.
Leaders of both systems expressed confidence that the beds in their facilities will stay full despite competition.
"I think there is room in this county for multiple outstanding cardiac programs, and we're proud to be one of them," Paul Viviano, chief executive of the UC San Diego Health System, said to the U-T San Diego recently.
Chris Van Gorder, CEO for Scripps Health, agreed.
"We believe we're going to have the volume and the program to use this hospital just for cardiac care," Van Gorder said.
Retrofitting in Oceanside
Tri-City Medical Center in Oceanside is also prepping for the 2030 seismic compliance deadline. The hospital district's board of directors recently granted approval to CEO Tim Moran to hire an architect to develop a design for retrofitting the campus.
The architect will provide plans for a new emergency department and parking structure, and will redesign the neonatal intensive care unit and obstetrics department for expansion.
"Our work with the architect will determine what will be needed in order to get ahead of any additional regulatory requirements that may be necessary in the future to better serve the needs of our community," said David Bennett, Tri-City's chief marketing officer.
How much the project might cost — and how the public hospital district might pay for it — are among the key details the hospital board will work out as the plan is developed, Bennett said.
Tri-City, which serves the communities of Oceanside, Carlsbad and Vista, has tried several times to move forward with renovation plans to upgrade and modernize the hospital ahead of the state's deadline. Those plans were abandoned after voters rejected bond measures that would have raised hundreds of millions of dollars needed to fund them.
Board Chairman Larry Schallock said the new plan would try to avoid going to the voters for a bond. Instead, the hospital would look for state and federal programs to help pay for construction.
Two separate campus redevelopment measures proposed in the past would have funded roughly $596 million in modernization projects but were defeated in 2006. The plans called for a six-story patient tower, a 550-space parking structure and renovation of the hospital's emergency and surgery departments.
The hospital also would have demolished old buildings deemed not worth fixing, including the south tower, north wing, center tower and center complex. The plan also called for building a 220,000-square-foot outpatient services building next to the hospital tower.
Bennett said the hospital system will be taking an integrated and comprehensive approach to the new redevelopment plan as it will be a long process that will be subject to review and revisions. Hiring the architect, he said, is the first step.
Kaiser Building in Kearny Mesa
Kaiser Permanente broke ground last year on a $900 million project to construct Central Hospital at 5201 Ruffin Road, hoping to capitalize on the convenience of Kearny Mesa's central location with quick access to Interstate 15.
The new 450-bed hospital will feature cutting-edge technology and communication strategies like interactive walls and teleconferencing capabilities, while relieving the growing pressure on its current facilities.
Kaiser's previous approach in San Diego was to stay lean, outsourcing some of its services, like cardiac procedures, to other local operators such as Palomar Health in inland North County.
However, Kaiser has seen significant growth in San Diego over the past several years with 560,000 total members, up about 72,000 since 2009. Jane Finley, senior vice president and the executive director for the San Diego region, told the Business Journal last year that she expects growth to continue — particularly in light of health care reform.
"Because of our growth trend, we are investing in new facilities, upgrading existing offices, and hiring physicians and staff to meet the increasing demand in San Diego," Finley said.
The new seven-story facility is being built on 19 acres of land, and construction is on schedule and on budget. Hospital officials said the new facility is expected to open midyear 2017.